My Story
By Seaside School
I am Seaside School. I will mention notes collected by the family over the years. You can read them all now or refer to them as they are mentioned in the text below.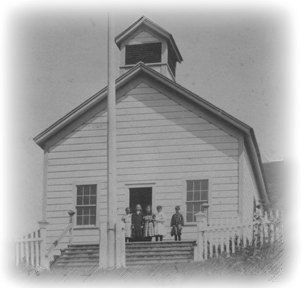 According to an 1878 article in the San Mateo County Times Gazette, Seaside School District was formed in 1871 and I was built at a location farther up the creek. A San Gregorio School District was already in existance--San Gregorio School was up the Bogus Creek, four miles or more away--so that name was not used for me or my district, even though I am located right here in San Gregorio.
Because of a question about my location, I was was dismantled and moved to my present site which was bought by the school district from the Dale family. A humorous mention was made of this in The San Gregorio Letter, a column in a county newspaper.
My memory is a little hazy, but after the turn of the century (I am getting old, this would be in the early twentieth century not the current one!) my classroom was expanded by moving one wall. This was after the above picture was taken. You can see the difference in the walls and floor on my inside. At one time a shed to shelter horses was part of the grounds.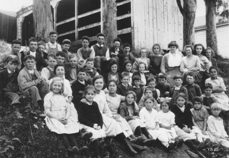 In the early 1920s, a young teacher named Mildred Bracesco, came to teach at Seaside School. And she never left. Until she retired in the early 1950s and the school district closed me, she taught all eight grades and several generations of local families. During this time she became Mildred Bell, for she married Pat Bell, who had been a student here before she came and whose family had run the Bell Hotel across the creek until they converted it to their private residence. Until her death a few years ago, Mrs. Bell lived there where she could look out the window at me, the school where she had taught for so many years.
When the school district closed me, they compiled a short history, which is included here. You might also like to read some information about Seaside School from an unknown source that may have been written in jest.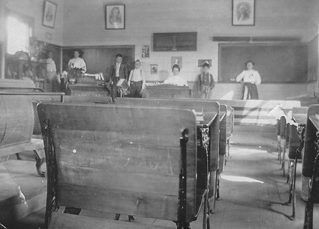 When I was closed by the district, local students rode by bus 10 miles north to schools in Half Moon Bay. At this time my site consited of the schoolhouse (me!), a wood shed, lunch room, a boy's and a girl's outdoor toilet and a swing set in the yard. Most items from my school days including books and papers were left in the building. I was sold at public auction in the late 1960s to the present owners who also own the adjoining property from which the my schoolhouse property was originally cut.
More class pictures: